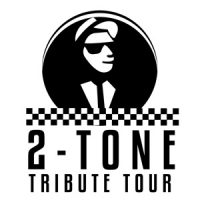 The 2-Tone Tribute Tour
Tributes to the Specials, Bad Manners and Madness
3 Bands ... 2-Tone ... 1 Fantastic Night!
SHOWS and TICKETS
ABOUT THE 2-TONE TRIBUTE TOUR
2-Tone took the British music charts by storm in 1979, and for a short, but incredibly exciting period, turned the country into a sea of black and white check. The seven young men at the heart of this musical revolution were the Specials, a band which created a blend of musical genres, mixing punk and Jamaican ska, producing an energy not seen on stage before. The Specials led the way for other bands that joined the 2-Tone movement such as The Selecter, Madness, the Beat, and the Bodysnatchers.
"Saw this band for the first time along with The Special Brew in St. Albans on Saturday. I've been to many concerts/tribute tours in my time and this was by far and away the best concert ever. Absolutely brilliant!" – Brett Miller
Bad Manners were not so much about politics, but all about dance! Whilst not part of the 2-Tone label, their infectious ska tunes were perfect for the music of the time. They were led by their iconic lead singer, Buster Bloodvessel. Hot and sweaty in his oversized jump suit and his huge tongue seemingly permanently out, Bad Manners soon built up a massive following.
"This has to go down as one of the best nights out I've had! Thanks guys.. you're brilliant!" – Samantha Hill
The Beat were a tour de force of the 2-Tone label with singers Dave Wakeling and Ranking Roger pumping out numerous top ten hits between 1979 and 1983 when they split up. Known for his complex rhythms on drums, original Beat drummer Everett Morton was the driving force in the Beat. He now plays alongside Mickey Billingham (original member of Dexy's Midnight Runners) and Neil Deathridge (long term member of the Beat) with Beat Goes Bang on the 2-Tone Tribute Tour.
Madness have been a favourite band of the British public ever since their early days as part of the 2-Tone movement. Although they moved away from 2-Tone for their 2nd album, they are still loved by rude boys and rude girls across the UK. Their 'nutty' sense of humour and their longevity as a band has won them a place in the hearts of many. Oh, and their incredible knack of producing memorable songs time after time.
"What a great night. Felt young again." – Mark Rust
The 2-Tone Tribute Tour was formed to bring back that fantastic moment in time for a generation who lived through it. It's all about the look, the attitude and, of course, the dancing!
These iconic bands will be represented by London-based Special Kinda Madness, who play as The Specials and Madness, and The Special Brew from Cardiff who perform as Bad Manners. Two top tribute bands who tour nationally.
"Absolute blinder!! Such a great fun night. We all had a ball!! Can't wait for the next 2TTT." – Angela Ska Ga Wakeham
So dust down your pork pie hats, and put on your Fred Perry, your Harrington, your DMs or your loafers. Because you're on for a BIG night out. Three and a half hours of live 2-Tone and ska music from your favourite bands. Let's relive 1979 all over again!
Tributes to the Specials, Bad Manners/The Beat and Madness, all on one stage.*
3 Bands … 2-Tone … 1 Fantastic Night!
* Each show features either the Bad Manners tribute or the Beat tribute – not both.
SHOWS and TICKETS
CONTACT US
If you are a promoter or venue looking to book the show, or need some details about an upcoming show, please contact us using the details below.
Iconic Promotions Ltd
11 Southfield Way
St Albans
AL4 9JJ
Tel: +44 (0)7916 311396
Email: bookings@2tonetributetour.com
If you want to help promote the show in your town, why not join our Street Team? You will be rewarded with a free ticket, amongst other things. Find out more here.